If you're looking for the best tuna casserole recipes. You will love these healthy tuna casserole recipes.
This list is packed with the best tuna casseroles on the web. They're easy, healthy, and delicious. And perfect for clean eating.
Whether you're on a diet, or not. These casseroles are the perfect healthy meals. They're rich in protein, low in carbs, and loaded with healthy veggies nutrients. That fuels your body while keeping your tastebuds happy.
1. Healthy Tuna Casseroles
This delicious tuna casserole has no noodles but has lots of flavors. It's low in carbs, and is so filling!
The ingredients you'll need are tuna in water, avocado oil, Dijon mustard, cheese, red onion, sea salt, black pepper, cayenne pepper, and parsley.
2. Creamy Tuna Broccoli Casserole
This dish is filled with tuna, broccoli, and cheese sauce that makes It so creamy and delicious. And it comes together in 30 minutes!
Here are the ingredients: tuna, broccoli, cream cheese, heavy cream, butter, cheddar cheese, Cloves garlic, Italian seasoning, salt, black pepper, and mozzarella.
3. Keto Tuna Zoodle Casserole
This Tuna Casserole is the perfect healthy-comfort-food that is packed with zucchini noodles, a creamy cheese sauce, and chunks of tuna. It's easy to make and it comes under 4 grams of carbs.
The ingredients of this recipe: zucchini, butter, garlic, almond milk, heavy cream, cream cheese, tuna in water, cheddar, and mozzarella cheese.
4. Tuna Noodle Casserole
A Perfect potlucks casserole. Made with canned tuna, mushrooms, peas, and noodles in a creamy sauce, finished with toasted breadcrumbs – so good!
The ingredients that you'll need: no-yolk noodles, or brown rice pasta for gluten-free, butter, onion, flour, chicken broth, milk, mushrooms, peas, tuna, cheddar, parmesan cheese, and breadcrumbs.
5. Mom's Tuna Casserole
A classic Tuna Casserole with potato chips that the whole family loves. Perfect on every dinner table across the country back in the day, including ours.
And it requires a few simple ingredients: cream of chicken soup, milk, tuna, peas, salt, egg noodles, and potato chips
6. Easy Tuna Casserole
Tuna Noodle Casserole combines flaky tuna and tender egg noodles in a cheesy creamy sauce. It's incredibly delicious. You'll Love this.
The ingredients you'll need are egg, butter, onion, celery, frozen peas, tuna, mushroom soup, milk, cheddar cheese, parsley, and panko bread crumbs.
7. Tuna Casserole with Egg Noodles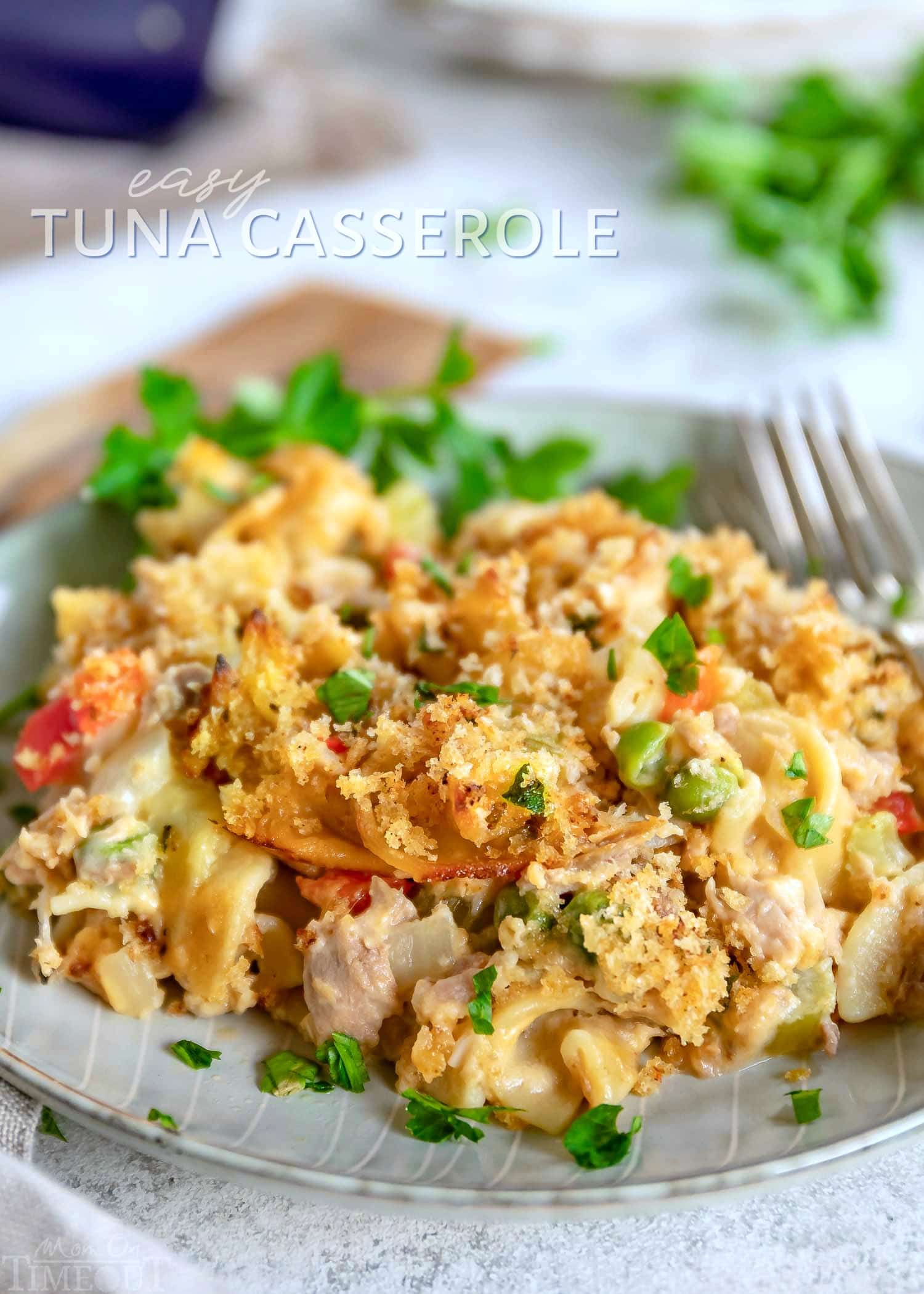 This Tuna Casserole is easy to make! Made with a simple from-scratch sauce, egg noodles, tuna, peas, and a crunchy Panko-Parmesan topping. It's pure comfort food that will be a family favorite! Serve with homemade dinner rolls and broccoli salad for a simply delicious dinner!
Here are the full ingredients: egg noodles, butter, celery, red bell pepper, onion, all-purpose flour, salt, black pepper, milk, Dijon mustard, tuna, peas, cheddar cheese, panko bread crumbs, Parmesan cheese, paprika, and parsley.
More Healthy Recipes You'll Love:
12 Delicious Chicken Casseroles
27 High Protein Low Carb Meals
17 Protein-Packed Low-Calorie Snacks
Save it for later!