Whether you're on a high fiber diet, trying to get in shape, or want some delicious healthy breakfast to start your morning. You'll love these high protein high fiber breakfast recipes.
This list has all the best high fiber breakfast recipes that are protein-packed, easy to make and satisfy all the needs.
What are some high fiber foods? There are so many, few are; Quinoa, Beans, Peas, Peanut, Almond, Chia Seeds, Apple, Banana, and Broccoli. (1)
1. Banana Oat Pancakes
Easy, healthy, filling breakfast served with fresh fruit and can be made in about 15 minutes.
Calories: 245
Carbs: 41g
Protein: 9g
Fiber: 5
2. Chickpea Omelet
A vegan omelet with chickpea flour, fried in a skillet. Perfect protein-packed high fiber breakfast.
Calories 297
Fiber 6g
Protein 11g
3. No Bake Oatmeal Energy Balls
These Energy Balls are the perfect for easy breakfast on-the-go, loaded with protein, fiber and all the healthy nutrients that will keep you satisfied for hours!
Calories: 131
Carbs: 18g
Protein: 5g
Fiber: 4g
4. Apple Cinnamon Quinoa Breakfast Bake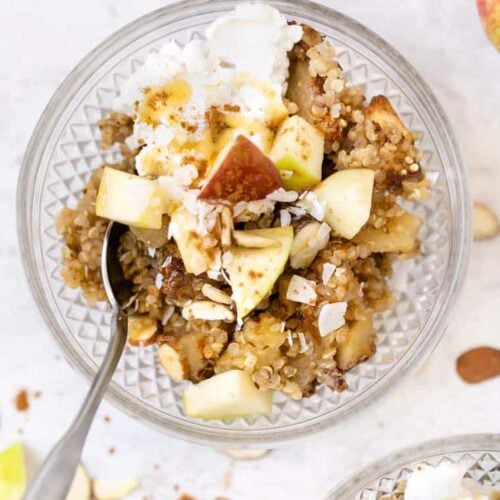 A healthy quinoa breakfast bake that's studded with fresh apples and cinnamon - great for a high fiber vegan breakfast.
Calories: 155
Carbs: 29g
Protein: 4g
Fiber: 5g
5. Five-Minute Healthy Oatmeal
A delicious oats breakfast recipe with just 5 simple ingredients. High in protein, filled with fiber, for a filling breakfast.
Calories: 238
Carbs: 43
Fiber: 7g
Protein: 7g
6. Pineapple Breakfast Smoothie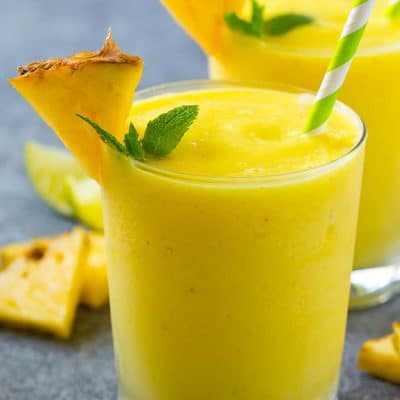 A healthy breakfast smoothie with pineapple, banana, pineapple juice and Greek yogurt, all blended together under 5 minutes and makes perfect high protein, high fiber smoothie for breakfast.
Calories: 169kcal
Carbs: 33g
Protein: 6g
Fiber: 7g
7. Healthy 5-Minute Avocado Toast
A super easy to make, perfect high fiber breakfast-toast.
Calories: 332
Carbs: 24g
Protein: 12g
Fiber: 10g
8. One-Bowl Blueberry Almond Breakfast Cookies
These cookies make a great grab-and-go breakfast option for those hectic mornings. And they're incredibly easy, requires a few simple wholesome ingredients.
Calories: 160
Carbs: 16
Protein: 5
Fiber: 4
9. Easy Chia Pudding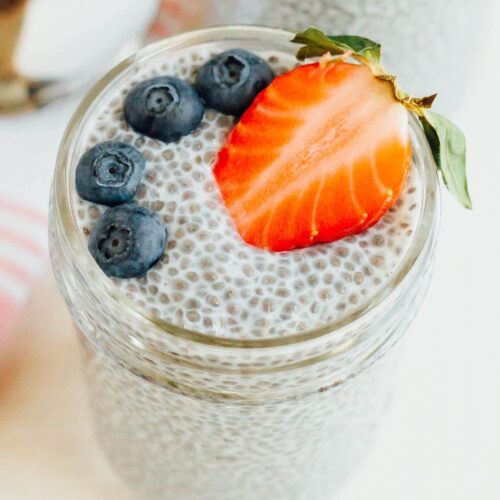 A creamy Chia Pudding made with 3 ingredients that loaded with protein, fiber and healthy fat that's quick to make and so satisfying.
Calories: 170
Carbs: 16g
Protein: 7g
Fiber: 13g
10. Healthy Banana Muffins
A healthy banana muffins that have no flour; just rolled oats. And they're incredibly easy to make in a blender and comes out irresistibly tasty.
Calories: 204
Carbs: 29g
Protein: 5g
Fiber: 4g
11. Apple & Raspberry Breakfast Oat Slice
A delicious, wholesome way to start the day. Quick to prep, easy to make - perfect breakfast that also makes a great lunch and snacks.
Calories: 155
Carbs: 23.5g
Protein 2.4g
Fiber: 5g
12. Breakfast Lentils with Poached Eggs
A bowl of flavorful, rustic, hearty Red Lentils cooked in a tasty tomato sauce with a perfect Poached Egg on top - all ready in under 20 minutes.
Calories: 255
Carbs: 35g
Protein: 16g
Fiber: 15g
More Healthy Recipes You May Love:
Don't Forget to Save it for Later!