If you're looking for some healthy recipe ideas for breakfast on the go, you'll love these amazing protein balls, they're incredibly easy, loaded with protein, and take no time, just grab-and-go.
The list is packed with all the delicious protein balls that are full of healthy nutrients that keep you full and satisfied for hours. They're quick to prep, require no time to make, and are the perfect breakfast and snack on the go.
1. Raspberry Cream Cheese Protein Balls
These creamy, sweet and pinky raspberry protein balls are indulgent and gorgeous, encased in a white chocolate shell that makes you feel like you're biting into a raspberry truffle!
Calories: 91kcal
Carbohydrates: 8g
Protein: 5g
2. No Bake Oatmeal Energy Balls
These energy balls are quick to prep, easy to make, loaded with protein, fiber, healthy fats and perfect for an easy breakfast on the go that keeps you satisfied for hours!
Calories: 131
Carbs: 18g
Protein: 5g
Fiber: 4g
3. Almond Butter Energy Bites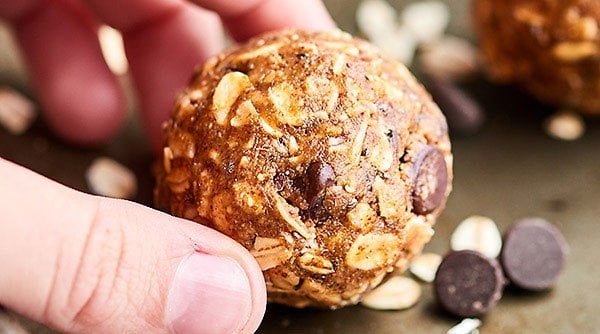 These Almond Butter Energy Bites are SO healthy and delish. They're nutty and rich from the almond butter, chewy from the oats, and sweet from the maple syrup and dark chocolate chips!
Calories 213
Carbohydrates 19g
Protein: 5g
4. Easy Date Protein Balls
Easy Date Protein Balls are the perfect snack and breakfast packed with protein and energy. They're easy to make and you can also freeze them for later. Dates, almonds, and coconut are rolled together to the perfect bite-sized treat!
5. Healthy Peanut Butter Balls
These protein-rich Peanut Butter Balls are made with just a handful of ingredients that you might already have on hand. Perfect breakfast on the go that's very satisfying.
6. Chocolate Peanut Butter Energy Balls
A healthy on the go protein-packed breakfast loaded with old fashioned oats, peanut butter, cocoa powder, protein powder, and flaxseed that's easy to make, and keeps you full.
Calories 297
Carbohydrates 26g
Protein 9g
7. No-bake Oatmeal Protein Balls with Protein Powder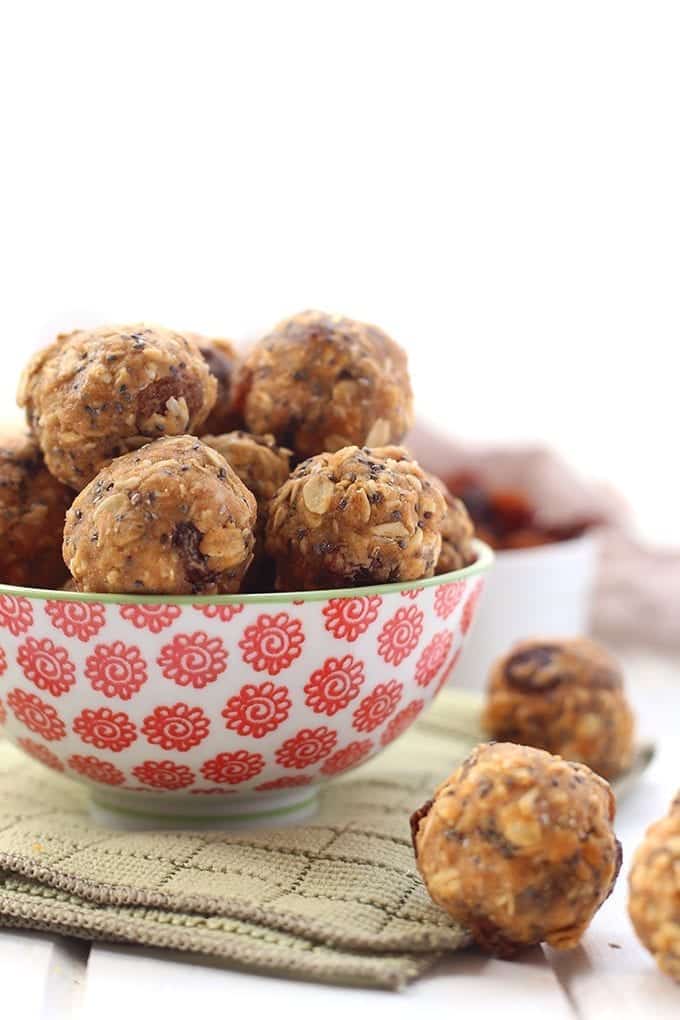 These energy balls are made with rolled oats, protein powder, peanut butter, and a touch of honey, they're incredibly easy to make and will keep you satisfied for hours!
Calories: 205
Carbs: 14.8g
Protein: 10.6g
8. No-Bake Pumpkin Protein Balls
These easy pumpkin protein balls are made with good-for-you ingredients like ground flaxseed, oat flour, and nut butter and with vanilla collagen protein powder for an extra protein boost, ready in under 30 minutes!
9. Coconut Protein Balls
High in protein, low in carb made with coconut butter and hemp seeds! You'll love the coconut flavor and the energy boost these protein balls provide.
Calories: 118
Carbs: 5g
Protein: 8g
10. Banana Protein Balls - No Bake
These banana energy balls are high in protein and are full of flavors. They're delicious and go so well with a cup of coffee or tea.
Calories: 64
Carbs: 8.6g
Protein: 3.3g
11. Peanut Butter Protein Balls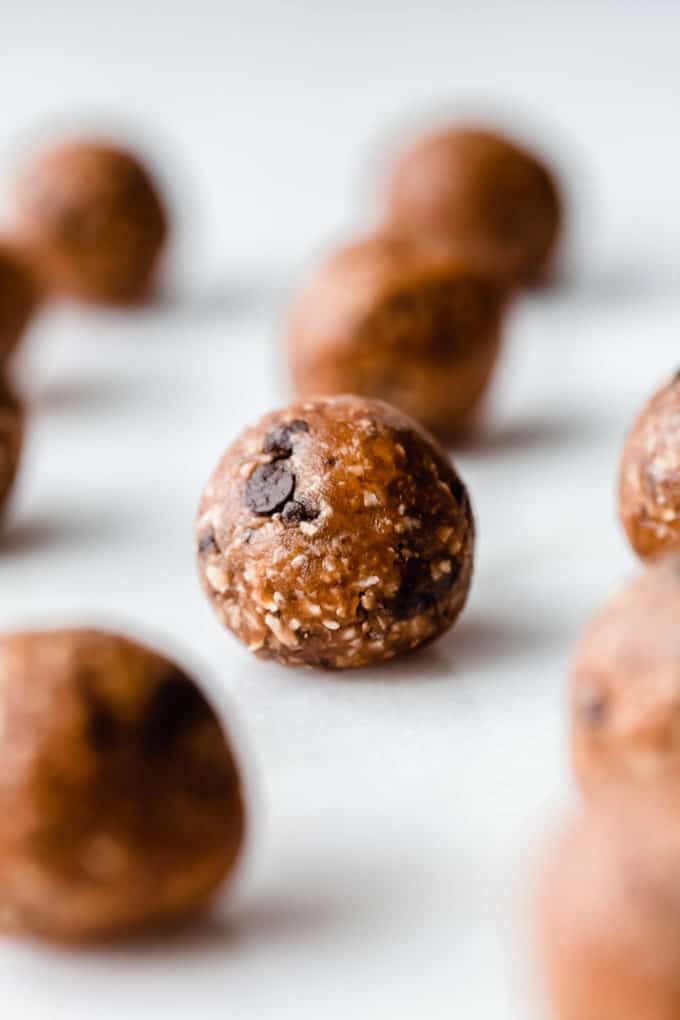 Easy to make, Peanut Butter Protein Balls that require 7 simple ingredients and come together in just 15 minutes. Comes with over 6.5 grams of protein.
Calories: 130
Carbs: 10g
Protein: 6.5g
12. CRANBERRY ALMOND ENERGY BITES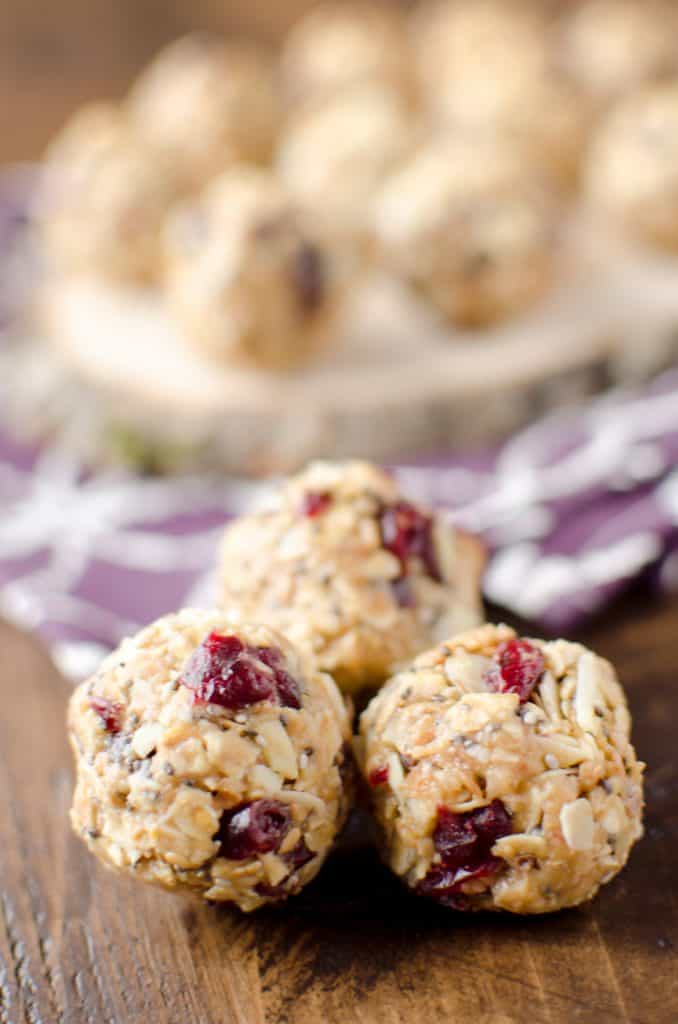 Protein-packed flavorful energy balls that you can store in your freezer for a healthy and convenient snack or breakfast. They come with plenty of protein, fiber, and healthy fats to fill you up and give you the energy you need to conquer your day!!