A collection of healthy and delicious breakfast recipes that are easy to make, full of nutritious, and are low in sodium. So if you're looking for the best low sodium breakfasts, you'll love these amazing ideas.
Whether you're on a low sodium diet, trying to lose weight, or want some delicious breakfast that won't hurt your heart health. This is for you!
1. Easy Healthy Banana Oat Waffles
A perfect breakfast for all the busy mornings, packed with goodness. Ready in under 10 minutes.
Calories: 165
Carbs: 28g
Protein: 6g
Sodium: 34mg
2. No Bake Oatmeal Energy Balls
These easy Energy Balls are the perfect on-the-go breakfast. Loaded with protein, fiber that keeps you satisfied for hours!
Calories: 131
Carbs: 18g
Protein: 5g
3. Banana Oat Pancakes
Easy, healthy, filling breakfast served with fresh fruit and can be made in about 15 minutes.
Calories: 245
Carbs: 41g
Protein: 9g
Sodium: 65mg
4. Apple Cinnamon Quinoa Breakfast Bake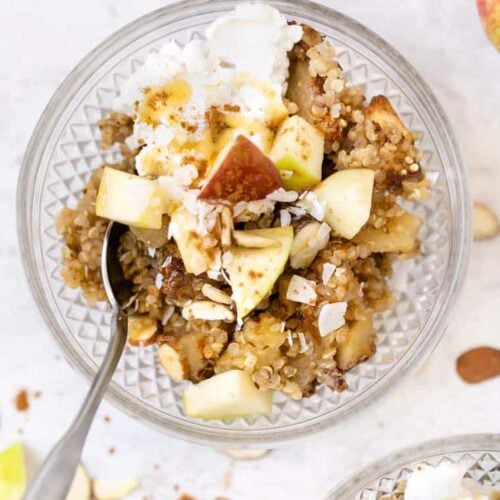 A healthy quinoa breakfast bake that is studded with fresh apples and cinnamon for a quick & flavorful breakfast.
Calories: 155
Carbs: 29g
Protein: 4g
Sodium: 84mg
5. Veggie Egg Scramble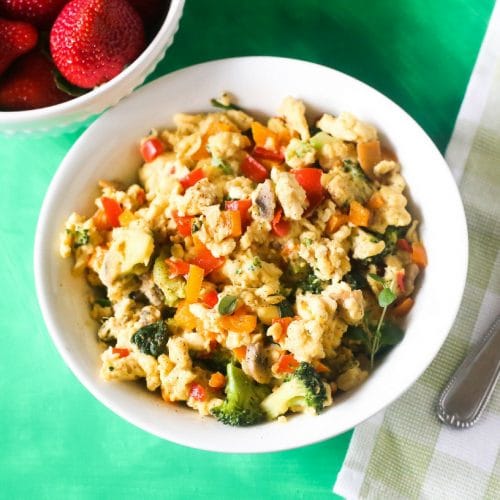 A delicious breakfast filled with healthy veggies and ready in about 30 minutes! They're fluffy, creamy, flavorful, and need just 3 ingredients: eggs, butter, and black pepper. Perfect for a quick, healthy, low sodium Scramble.
Calorie: 176
Carbs: 6g
Protein: 14g
Sodium: 166mg
6. No-bake Breakfast Cookies
These delicious breakfast cookies are so filling and so very easy to make, you can make them ahead of time and take them on the go for breakfast. Double the recipe and meal prep for the week ahead!
Calories: 245
Carbs: 19g
Protein: 8g
Sodium: 182mg
7. Apple Cinnamon High Protein Breakfast Bowl
A filling high protein breakfast bowl made with apples, cinnamon, and granola into a breakfast bowl that will keep you full till lunch. It takes about 5 minutes to make, and can easily be made ahead for meal prep breakfasts for the week!
Calories: 207
Carbs: 28g
Protein: 14g
Fat: 8g
Sodium: 193mg
8. Fruit and Nuts Monkey Breakfast Bowl
This fruit and nuts monkey breakfast bowl is loaded with nutritious ingredients that are so amazing that the whole family will love it!
Calories: 548kcal
Carbs: 70g
Protein: 13g
Sodium: 93mg
9. Peanut Butter Banana Smoothie
A healthy breakfast smoothie that takes just 5 minutes, all it takes is throw the ingredients together and blend. And it's so creamy, tastes like ice cream.
Calories: 251
Carbohydrate 33.9g
Protein 9.8g
Sodium 221.7mg
10. Easy Chia Pudding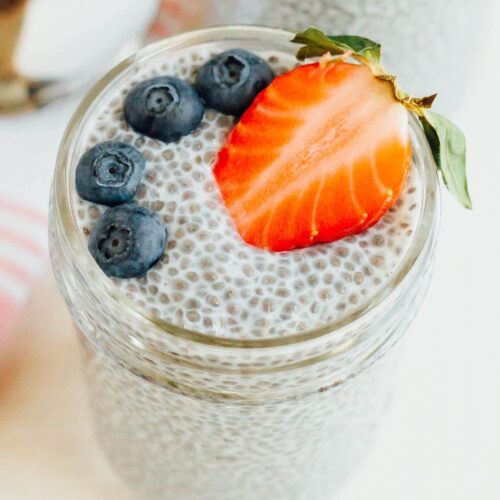 A creamy Chia Pudding made with 3 ingredients that are loaded with protein, fiber, and healthy fat that's easy to make and so satisfying.
Calories: 170
Carbs: 16g
Protein: 7g
Sodium: 91mg
11. Low Carb Egg Wraps
A low carb egg wrap that's so filling and will full you until lunch.
Calories: 450kcal
Carbs: 17g
Protein: 16g
Sodium: 239mg
12. Zucchini Breakfast Muffins
Fluffy, moist and delicious muffins made with zucchini and whole wheat flour that are quick to prep and easy to make.
Calories: 225
Carbs 27g
Protein 5.1g
Sodium 169.4mg
Note: While a low sodium diet has remarkable benefits, it restricted sodium intake to 3,000mg, about one and a half teaspoons of table salt. So make sure to adjust the salt as per your needs. (1)
More Healthy Recipes You May Love:
Don't Forget to Save it for Later!